If you're looking for a place to live, you may be trying to decide whether it's better to buy or rent. Renting does have its advantages: there's less upfront investment and you can move when your agreement or lease is up without having to sell. However, for a lot of people, it's a better option to buy a home rather than rent it. When you actually look at it from all angles, there's a very compelling and legitimate case for buying.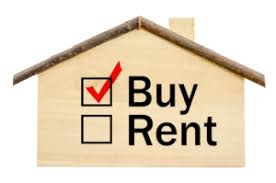 Numbers Don't Lie
According to a survey conducted by Trulia on housing regrets, 41% of renters wish they'd bought a home instead of renting. In a separate data set released, Trulia found that it's cheaper to buy than rent in each of the nation's 100 biggest metro areas. That bears repeating. Buying was cheaper than renting in every area.

It's an Investment
It's also worth noting that we're in a cycle where home values have been steadily rising. When you own your own home, an environment of rising home values means you not only gain equity in your home when you make your payment every month; it also rises with the value of your home. For each month you make your mortgage payment or your home value rises, it's a bit like making another small deposit in a building bank account. When you rent, someone is seeing the benefits of those equity gains: your landlord. It's time to take some of that investment power for yourself.

Dismantling Down Payment Myths
There's a misperception that persists that you shouldn't even bother applying for a mortgage unless you have 20% to put down. That may have been true at one point in history, but it's simply no longer the case. There are advantages in making a higher down payment. The amount of your down payment is one of the factors that can enable you to get a lower rate. Still, if the fact that you don't have $40,000 in a savings account is stopping you from getting a home of your own, it's time to blow that mental stop sign and go full speed ahead toward your dreams.

It's Yours
There's one more great reason to get a house - you can do to it whatever you want. Unlike a rental, whether your idea of the bathroom paint scheme includes calming lavender or loud pink polka dots, you have the freedom to make that decision. If you want an industrial kitchen to perfect your avocado toast featuring homemade bread, you can make it happen.

If this sounds good to you, feel free to reach out to us for more information on the home buying process. Happy home search!