When you're looking to buy, or sell a home, you might find that you're spending a lot of time researching on the internet. You may be doing research on market statistics, neighborhood information, mortgage rates, and brokerages in the area, etc. However, below we've compiled 10 lesser-known real estate fun facts that you might not come across in your day-to-day web surfing!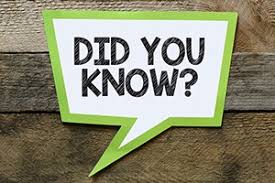 1. We hear a lot about foreclosure statistics and how many homes are "under-water". Did you know that almost 30 percent of Americans own their home "free and clear," without a mortgage? That's approximately 21 million households!

2. In the United States, there are five times as many vacant houses as there are homeless people.

3. Warren Buffet is one of the richest men in the world, and he still lives in the same house he bought in 1958. He paid $31,500 for it.

4. In the United States, if you see a winged eagle over the front door, it may mean that the homeowners have paid off their mortgage. The eagle symbolizes "freedom" from the mortgage payment.

5. A homeowner's net worth is over 30 times greater than that of a renter.

6. Charles "Pretty Boy" Floyd was a Great Depression era gangster who was viewed positively by the public. When he robbed banks, he would destroy mortgage documents, which freed many citizens of their debts.

7. Think your house is too small? The typical home site in many developing countries is 75 square feet.

8. Eight out of 10 non-homeowners indicate that owning a home is part of their American Dream.

9. The average mortgage down payment for homebuyers has been 6 percent for first time buyers for the last three years running.

10. Do you like older homes? You may want to visit the Henry Whitfield House in Guilford, built in 1639. It's listed as the oldest surviving stone American Colonial house in New England, and has been a museum since 1899.
While these facts are interesting tidbits to share with your friends, we are also full service Real Estate Consultants and our expertise and experience will benefit you if you're considering buying or selling a home at this time!