Memorial Day festivities mark the unofficial start of the summer, so it's no wonder that the most popular way to celebrate this holiday is with a barbecue. If you're playing host this year you may be looking for the simplest way to throw a feast that won't drain your resources. Memorial Day is a fun and easy holiday to plan for. The fare is simple, and activities are laid-back. From food to décor, we're covering everything you need to know about throwing together an easy gathering with friends and family. Keep reading for simple tips on how to host a Memorial Day BBQ.

Memorial Day FOOD
Of course, nothing says Memorial Day like a barbecue. For a simplified take that will give guests a variety of options, bring a finger-food approach to your menu. Serve sliders or skewers. Accommodate vegetarian guests with options like veggie burgers, and if you've got picky guests (aka children), give them a recipe they can customize themselves, such as a hot-dog bar. Provide a variety of toppings and let them build their favorite variations.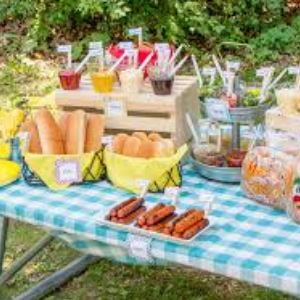 Memorial Day DRINKS
The first thing you should know about how to host a Memorial Day barbecue is that you'll be running around without much time to play bartender. Have your drinks in beverage dispensers before guests arrive. Creating mixed drinks in batches also helps cut down on buying mixers and garnishes that can add up and often go unused. If kids are in tow, keep lemon-lime soda and grenadine on hand to mix up Shirley Temples. Skip the bottled waters for guests, and provide a dispenser of lemon water instead.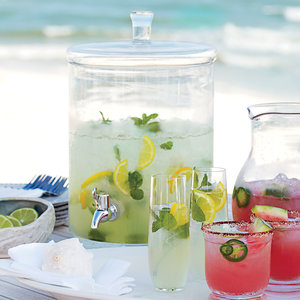 Memorial Day DÉCOR
The biggest perk of throwing an outdoors get-together is limiting the décor to one area of your home, thereby saving time. In keeping with Memorial Day festivities, create a color scheme around red, white, and blue. Let your tablescape serve as the main focus of your decorations, and keep your bases simple, with a solid-colored tablecloth in blue and contrasting linens in a brighter red. Complement your décor with string lights, which will also provide illumination once the sun sets.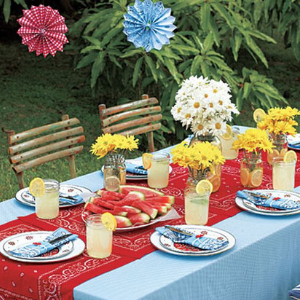 With these easy hosting tips, your Memorial Day BBQ is bound to be a huge a success. Shawn and Emma are always here to help you in any way we can, so don't be a stranger and reach out.